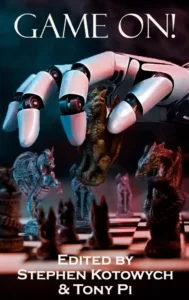 Thrilled to see this glowing review of GAME ON! from Amazing Stories, the oldest science fiction magazine in the world, launched in April 1926 by Hugo Gernsback himself (for whom the Hugo Awards are named).
While the reviewer only reviews some stories in-depth, overall he concludes by saying "…each story exhibit[s] wry and subtle writing embedded with numerous original concepts. A feast for the imagination I'd say. Highly recommended."
My co-editor Tony and I couldn't agree more.
Still need to grab your copy? I mean, Christmas is right around the corner… Find the anthology here: