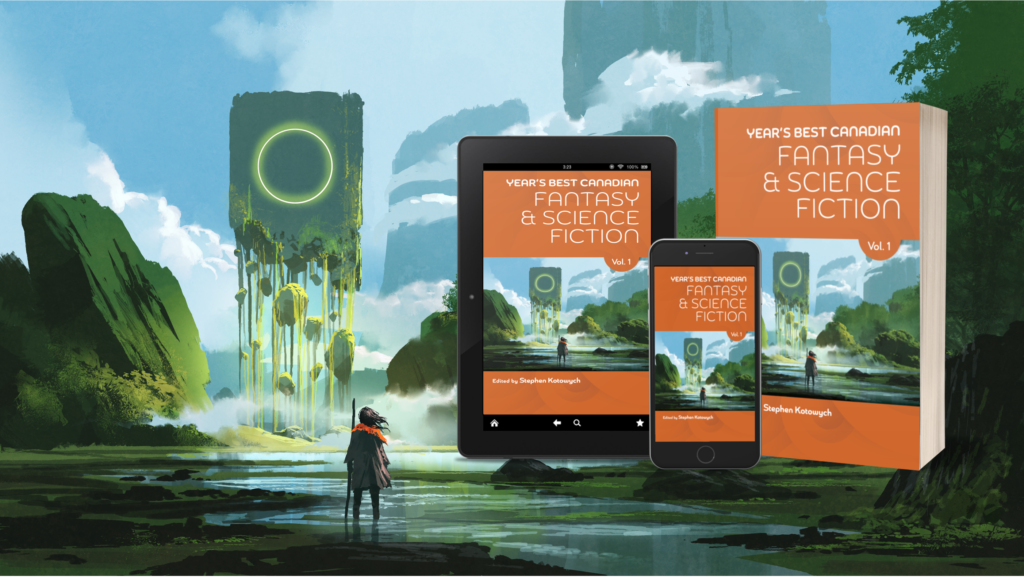 I'm thrilled this morning to announce the full Table of Contents for Year's Best Canadian Fantasy and Science Fiction: Volume One!
Give Me English – Ai Jiang
The Voice of a Thousand Years – Fawaz Al-Matrouk
Bottom's Dream – Glenn Clifton
And in the Arcade, Ego – Kate Heartfield
The Secret Lives of Shellwomen – Geneviève Blouin. Translated from the French by Margaret Sankey
 Poem: In Stock Images of the Future, Everything is White – Terese Mason Pierre
Michif Man – Chelsea Vowel
Sunday in the Park With Hank – Leah Bobet
A New Brave World – Eric Choi
Poltergeist – Rhonda Parrish
One Day in the Afterlife of Detective Roshni Chaddha – Rati Mehrotra
Big Trouble in Droidtown – Hayden Trenholm
 Poem: First Contact – Lisa Timpf
Distant Skies – Charlotte Ashley
Shattered – Marie Bilodeau
 Poem: Necklace – Carolyn Clink
All That Burns Unseen – Premee Mohamed
 Poem: Rapunzel in the Desert – Melissa Yuan-Innes
Redfin Spine – Jonathan Olfert
Maximum Efficiency – Holly Schofield
Choose Your Own – C. J. Lavigne
 Poem: After the Apocalypse – Colleen Anderson
Rare Earths Pineapple – Michèle Laframboise
Choke – Suyi Davies Okungbowa
 Poem: Three Herons – Geoffrey W. Cole
Folk Hero Motifs in Tales Told by the Dead – KT Bryski
Vi'Hun Heal – Michelle Tang
Bleak Communion of Abandoned Things – Ariel Marken Jack
 Poem: a sinkhole invites a street to consider its future – Dominik Parisien
Broken Vow: The Adventures of Flick Gibson, Intergalactic Videographer – Peter G. Reynolds
Green Witch – Elizabeth Whitton
 Poem: The Mall at Night – Millie Ho
Homeplus – Liz Westbrook-Trenholm
Into the Frozen Wilds – P.A. Cornell
 Poem: The Wolf of Your Passions – Lynne Sargent
Critical Mass – Peter Watts
Douen – Suzan Palumbo
The volume will also include an Introduction from yours truly.
Backers of the Kickstarter will be receiving their e-books and print copies in November, and the book will be available to book lovers everywhere December 5, 2023 at your favourite independent, brick-and-mortar, or online book retailer.
This thing is all killer, no filler, y'all. Can't wait to get it into your hands!
– S.