I'm thrilled to announce (after an agonizing two week embargo!) that my story "Super Frenemies" is nominated for this year's Aurora Award in the Best English Short Fiction category. This is my second Aurora Award nomination: my story "Saturn in G Minor" was nominated in 2008.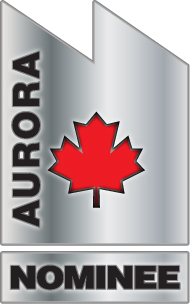 "Super Frenemies" looks at a group of children who develop super powers as the result of a pandemic, and how schoolyard politics and power dynamics would play out if suddenly the bullied kids had the (super)power over the bully who tormented them for years. It was originally published in Caped: An Anthology of Superhero Tales (Local Hero Press, 2015).
I really love this story, and I'm so pleased that others did, too, and saw fit to nominate it for an Aurora. It was partly inspired by an idea from Harry Connolly, and partly from my three-year-old son's growing love of superheroes. Though I'd been reading comics my whole life, it wasn't until he started wanting to watch Superman and Batman cartoons that I truly realized how important violence is to superheroes, even the good guys…
The full list of the 2016 nominees can be found here. Congratulations to all the nominees! Looks like a fantastic ballot again this year.
A reading package of the nominated works (including "Super Frenemies") will be available shortly, and voting will begin June 15. More details closer to those dates. The Aurora Awards will be presented during When Words Collide / Canvention 36 on the weekend of August 12-14, 2016 in Calgary.
– S.